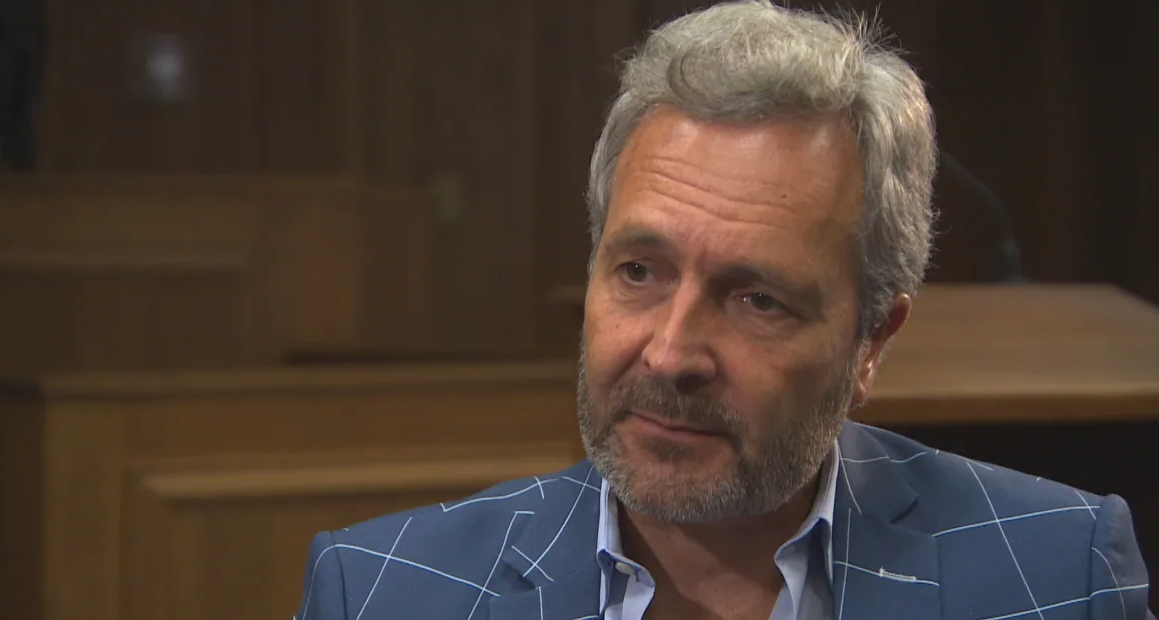 A Calgary Police Service spokesperson said it assisted in Carpay's arrest but deferred other questions to Winnipeg police.
Carpay's decision to hire a private investigator to follow Joyal, chief justice of what was then Manitoba's Court of Queen's Bench, came to light in July 2021 during a hearing for a case against pandemic rules brought forward by seven rural Manitoba churches who were represented by Carpay's organization.
A lawyer who represented a number of churches across Canada fighting COVID-19 restrictions in court has been charged by police in Winnipeg after admitting in 2021 he hired a private investigator to follow senior government officials and the Manitoba judge who presided over one of the organization's cases.
The Winnipeg Police Service said it has charged John Carpay, 55, with intimidation of a justice system participant and the attempt to obstruct justice.
The Justice Centre for Constitutional Freedoms said it learned on Friday of the warrant issued by Winnipeg police for the arrest of Carpay, president of JCCF when the allegations surfaced last year.
"This warrant was apparently issued in connection with the events that took place in 2021 and alleges obstruction of justice," the Alberta-based organization said in a statement posted on its website on Sunday.
Carpay immediately turned himself in to the Calgary Police Service after learning of the warrant, the statement said.
It also indicated Carpay has been released on bail, with the sole condition that he not contact Glenn Joyal, chief justice of what is now Manitoba's Court of King's Bench. It said the Calgary-based lawyer has not had any communication with the judge since an apology he made for having Joyal followed in 2021.
Professional misconduct charges
A spokesperson for the Law Society of Manitoba said its investigation is complete and charges of professional misconduct have been authorized against Carpay.
The Law Society of Manitoba's website says the three-day hearing for Carpay's case is scheduled to begin Feb. 8. Carpay is accused of breach of integrity, undermining public respect for the administration of justice and failing to treat court with candour, fairness, courtesy and respect, the website says.
A lawyer found guilty of professional misconduct can face consequences including being fined, suspended or disbarred, Manitoba's Legal Profession Act says.
Lawyer files misconduct complaint after private investigator hired to follow Manitoba chief justice
In a statement, a spokesperson for Manitoba Courts characterized the allegation as an "unprecedented surveillance of a sitting judge of this court." But neither the court nor the chief justice would comment further, the statement added.
Ottawa human rights lawyer Richard Warman, who filed complaints with the law societies of Manitoba and Alberta, said he, too, thinks the case is unprecedented in terms of professional misconduct by a lawyer.
"I'm unable to remember any lawyer going so far off the rails as to hire a private investigator to stalk the chief justice who's presiding over a case that they're appearing in," he said on Monday.
"I have no doubt that it will be studied for years to come as a prime example of professional misconduct. And when you have extreme conduct, it calls for extreme sanction."
Warman said he's relieved to hear Carpay would also be charged criminally, but wondered why it took so long — especially since the case involved an admission of guilt in open court.
Given that factor, he said it comes off as "naive in the extreme" that Carpay's organization says the charge against the lawyer was unexpected.